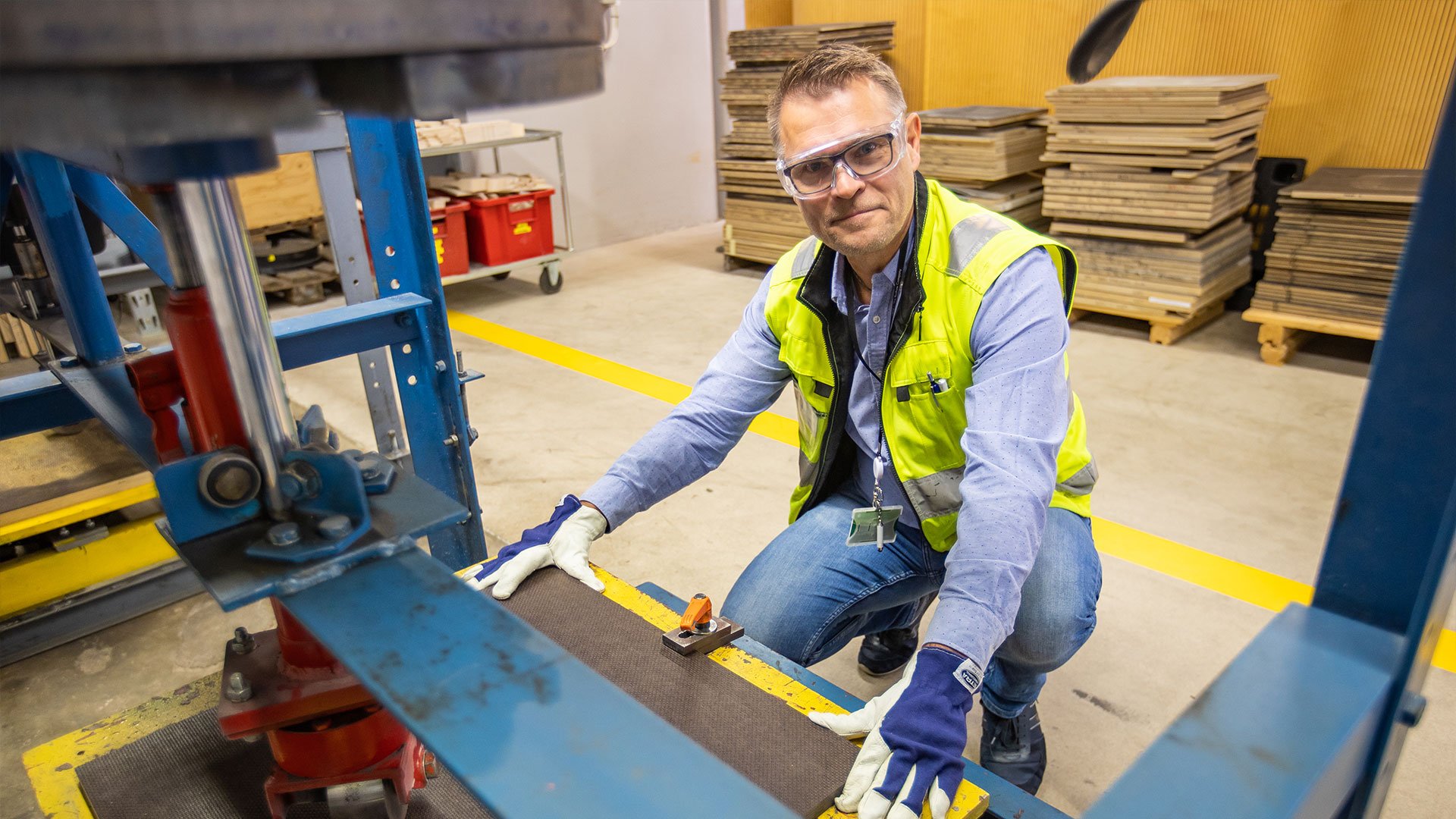 All WISA plywood products are thoroughly tested to ensure quality and performance. As many as 80 different product tests in use at UPM Plywood and some of these have been specifically developed to simulate the actual end-use situations and conditions in the transport industry. Today, trailer flooring solutions, such as UPM Plywood's WISA-Trans and WISA-TopGrip, are expected to withstand wear for a long time, be lightweight, and offer additional features such as slip resistance.
"In our experience, strength is the most important quality required from trailer floor panels. UPM Plywood is the industry leader in R&D and our expertise in plywood strength properties as well as our capability to test them are among the very best in the world. We are able to simulate the customer's end-use situations in our laboratory and develop the right solution for the application in close cooperation with the customer," says Harri Nieminen, Product Manager at UPM Plywood.
Laboratory tests supported by computer simulations
When it comes to testing trailer floor panels, the wheel load test and the rolling test are the two most important ones. Both are based on standards but have been adapted by UPM Plywood to provide the most accurate, relevant, and reliable information needed for building strong and durable trailer floors.
Originally developed for testing cargo containers, the wheel load test simulates the weight load produced by a forklift wheel. "It is an excellent test that allows us to simulate extremely versatile trailer structures and specifications, including the spacing between floor support frames, and find out what type of plywood structures are the best solution for the customer's need," Nieminen explains.
Before the actual tests, simulations are often run on the computer first. Over the years, UPM Plywood has accumulated extensive test data that can be used to simulate different types of trailer structures.
"For instance, we can test how a trailer frame behaves when plywood panels are attached to it in certain ways. These simulations are an excellent addition to laboratory tests and provide additional value for the customer," Nieminen notes.
The rolling test is also based on a standard now adopted by most trailer floor manufacturers. The test measures the durability of a panel's surface under a rolling heavy-duty industrial wheel typically used, for example, in a pump truck. However, while the standard specifies that the wheel load should be from 100 to 500kg, it allows conducting the test using a wheel made of either rubber, plastic, or steel.
"In our tests, we always use a steel wheel and a load of 300kg. This ensures that the test results are reliable and leave no room for guessing as to whether the plywood panel will be durable in actual use," Nieminen says.
Testing supports product development
Besides these special tests, UPM Plywood's WISA plywood flooring panels undergo the same standard quality control as the company's all other products, including the glue-line shear strength test and the three-point bending test.
At UPM Plywood, testing is done to meet both regulatory and customer requirements. It is also a crucial part of product development right from the start. "Some of the most important megatrends currently include urbanization and the need for more sustainable transport and logistics solutions. UPM Plywood is constantly developing new products and features to meet the customers' needs, and we make sure our testing know-how and capability are always up to date to support this," Nieminen concludes.
Text: Janne Suokas