Frequently asked questions
Our technical team has gathered here some answers to questions that may arise regarding the properties and right use of WISA®-SpruceFR.
FR-treatment enhances the fire retardancy of plywood without any affect to strength properties.
WISA-SpruceFR has certificates for European fire classes B-s1, d0 and Bfl-s1, and emission class M1. More information e.g. environmental certificates can be found from here.
Fire retardancy has been tested and classified according to European classification system.
Additional coatings are not recommended, because it might change the fire class. Compatibility of paint or varnish should be confirmed from paint/varnish manufacturer or supplier. Before painting/varnishing big areas, make first test with small sample.
Pressure impregnation process usually affect adversely to the strength properties of plywood. Panel properties after treating process are not the same as initially declared by panel manufacturer. Therefore, pressure impregnated panels can not be used for structural purposes without type testing of impregnated panels. In addition, wetting and drying of the plywood panels during pressure impregnation process likely causes deformations.
Fire retardant treatment of WISA-SpruceFR is non-toxic and does not contain halogenated compounds, heavy metals or boron.
Building Information Foundation RST has approved WISA-SpruceFR as belonging to emission class M1 for building materials. M1 stands for low emissions. M1 certificate for WISA-SpruceFR can be found on wisaplywood.com/certificates page.
WISA-SpruceFR is developed for structural end-uses with high requirements for fire safety, e.g. public buildings.
WISA-SpruceFR is not recommended to be exposed to weather. Panel is primary designed for structural, not for visual, end-uses.
WISA-SpruceFR can be disposed the same way as untreated plywood panels. Always first consider reuse.
No, the product has been tested with standard horizontal and vertical joints.
Panel has yellow tone and B-s1, d0 fire class indicated as part of CE-marking. The product name is laser-marked on the back side of the panel.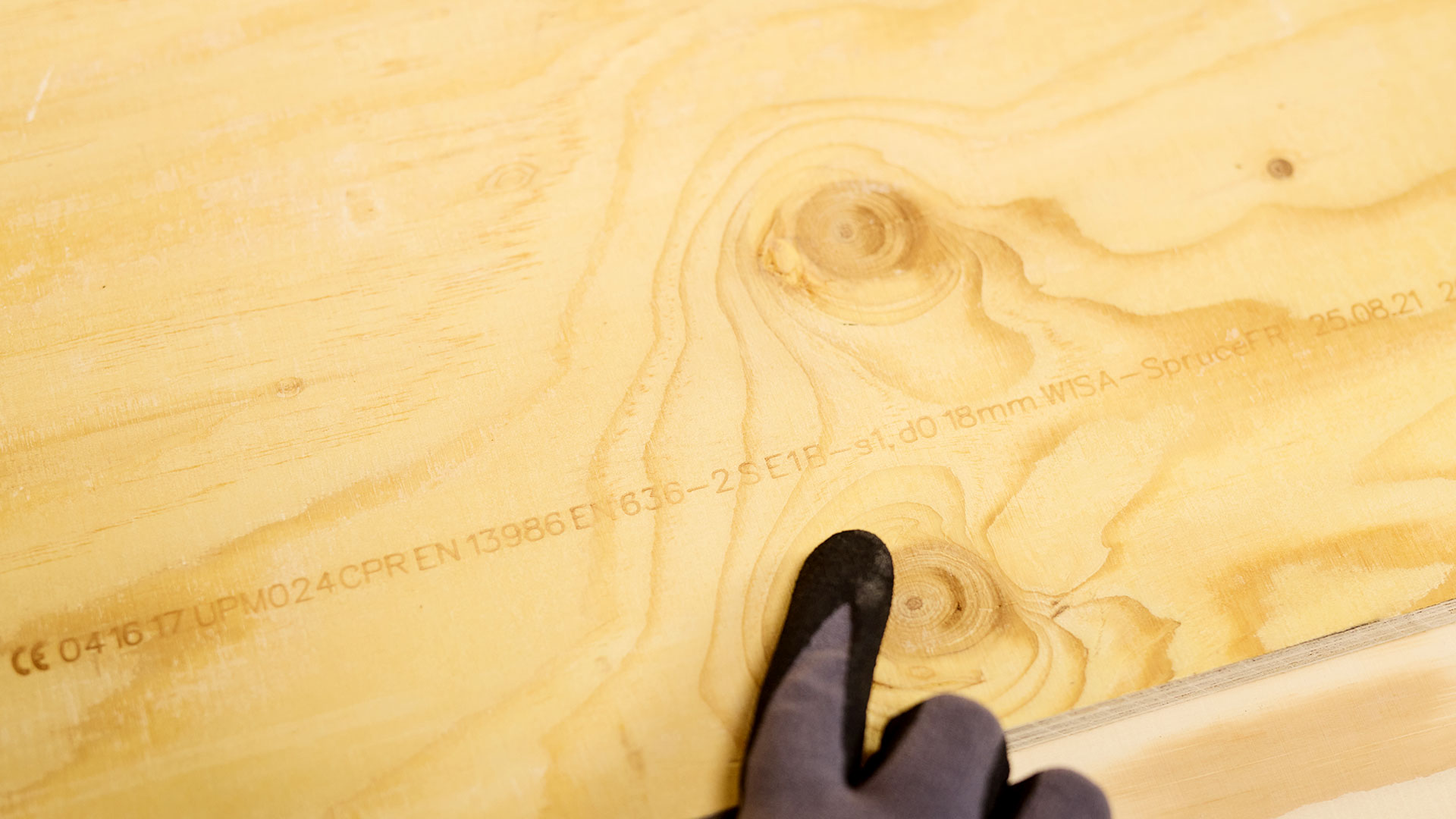 As plywood is not a chemical or an article according to Reach, we are not obligated to make msds's. Instead, we have made Plywood Safety Profiles for all product groups and they are available here.
Plywood Safety Profiles are valid for all plywood products, separately for birch and spruce, coated and uncoated products. Plywood Safety Profiles include information on safe handling of plywood and a list of restricted substances in UPM. Plywood Safety Profiles have been developed to replace Material Safety Data Sheets (msds). Safety profile for WISA-SpruceFR can be found on wisaplywood.com/certificates page.
Yes. All UPM plywood and veneer mills have ISO 14001 certified environmental management system.
UPM has Code of Conduct that defines the general responsible business principles that the entire personnel of UPM should follow. In addition, UPM Plywood has "UPM Plywood environmental rules". These are the foundation for achieving environmental excellence in all our operations.