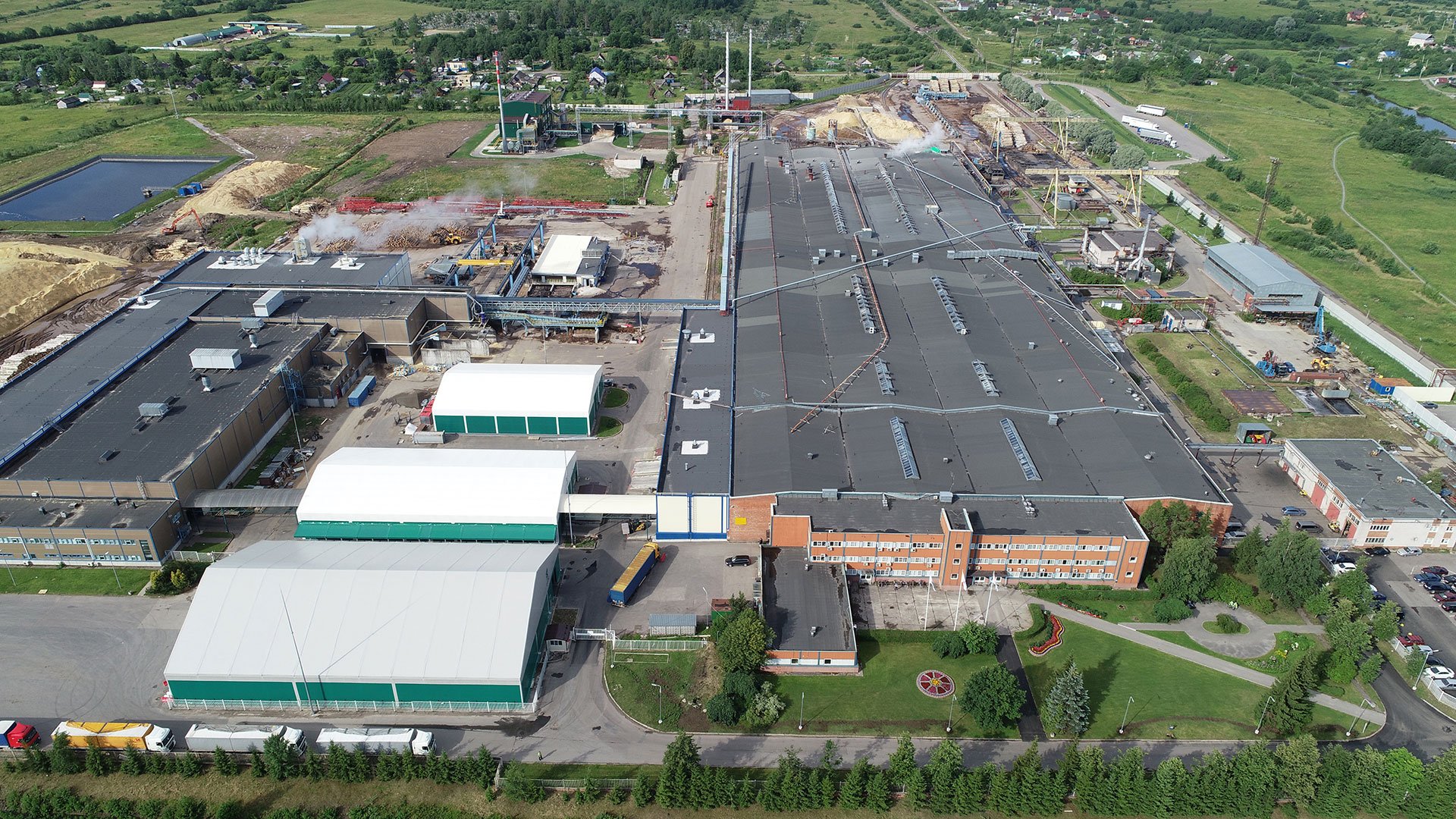 (UPM Plywood, Lahti, Finland, 10 September 2019 at 10:00 EET) - The expansion of UPM Chudovo plywood mill, started in the autumn of 2017, was inaugurated today. The expansion increases the mill's production capacity to 155,000 cubic meters per year. The new bio boiler plant, in turn, enhances the mill's material efficiency and reduces fossil fuel consumption. The investments total to approximately EUR 50 million.
"The two-year investment project has expanded UPM Chudovo mill production capacity and the product portfolio, which increases the value we can generate for our customers in our key industries in construction, transport equipment industry and LNG shipbuilding," says Mika Sillanpää, Executive Vice President of UPM Plywood. "Not forgetting the advancements we will achieve in mill's environmental performance, such as wood efficiency and carbon emissions".
The expansion consists of new plywood production lines, including all machinery needed for veneer and plywood manufacturing. A new 19 MW bio heat boiler has also been built at the site. The mill's annual production capacity will increase by 45,000 up to 155,000 cubic meters per year and it is estimated that around 100 new jobs are created — both directly at the mill and indirectly, in wood procurement and logistics, for example.
The investment also expands the product portfolio of the UPM Chudovo mill with two new products: WISA-BirchLG, Long Grained panels, and WISA-Form BirchMBT, with new Moisture Barrier Technology (MBT) to better control face veneer moisture movement in concrete formwork panels.
"The successful and timely realization of the investment project at the Chudovo mill was possible due to highly professional and motivated project and mill teams as well as over 350 subcontractor employees. They were able to run the mill in a normal operational mode and take care of the construction and installation of new equipment at the same time. We are also proud of the safety culture during the project, as there were no lost-time accidents," thanks Mika Kekki, Vice-President, Production and Operations, UPM Plywood.
More than 40% of the subcontracting related to the investment was sourced locally.

For more detailed information please contact:
Mika Kekki, Vice-President, Production and Operations, UPM Plywood, tel. +358 40 545 5803
Anatoly Zhukovets, General Director, UPM Chudovo, tel. +7 921194 60 80
UPM, Media Relations
Mon-Fri 9:00-16:00 EET
tel. +358 40 588 3284
media@upm.com

UPM Chudovo mill is one of the nine UPM Plywood mills. It employs directly approximately 650 people and the annual capacity is about 155,000 m3 of birch plywood. Annual birch veneer log supply is approximately 400,000 m3. All the wood for the mill is sourced from sustainably managed forests. UPM Chudovo has FSC certificate on controlled wood sourcing.
UPM Chudovo mill is the largest taxpayer and one of the biggest industrial employers in Chudovo region. The mill's history dates back to 1988 as the first Soviet-Finnish joint venture. UPM became its' sole owner in 2005. – www.wisaplywood.com/ru
UPM in Russia UPM has been trading with Russia from the end of the 19th century. Currently UPM exports paper and label materials to Russia, sources wood, recycled paper and tall oil and owns plywood mill in Novgorod region. Trade operations and logistics are managed from offices located in Moscow and Saint-Petersburg. – www.upm.ru
UPM Plywood
UPM Plywood offers high quality WISA® plywood and veneer products mainly for the construction and transport industries as well as UPM Grada® thermoformable wood material for the furniture and manufacturing industries. The sales of UPM Plywood in 2018 were EUR 480 million and it has about 2,400 employees, including 1,500 in Finland. UPM has six plywood mills and a veneer mill in Finland as well as plywood mills in Russia and Estonia. – www.wisaplywood.com, www.upmgrada.com
Follow UPM Plywood on Twitter | YouTube | Instagram | Facebook
UPM
We deliver renewable and responsible solutions and innovate for a future beyond fossils across six business areas: UPM Biorefining, UPM Energy, UPM Raflatac, UPM Specialty Papers, UPM Communication Papers and UPM Plywood. We employ around 19,000 people worldwide and our annual sales are approximately EUR 10.5 billion. Our shares are listed on Nasdaq Helsinki Ltd. UPM Biofore – Beyond fossils. www.upm.com
Follow UPM on Twitter | LinkedIn | Facebook | YouTube | Instagram | #UPM #biofore #beyondfossils