(UPM, Lahti, 18 October 2019 at 10:00 EET) – The WISA-Spruce plywood product family's versatility increases as UPM Plywood introduces five new thickness options for its fire-retardant WISA-SpruceFR plywood to the market. WISA-SpruceFR plywood for structural use is now available in thicknesses from 12–30mm, in both straight-edged and tongue-and-groove options. This wider range of products provides significant benefits for designers and builders.
WISA-SpruceFR plywood, launched by UPM two years ago, meets the requirements of the most stringent fire risk classification, B-s1 d0, without compromising the plywood's excellent technical properties. Lightweight yet durable WISA-SpruceFR plywood is suitable for all kinds of frame construction. It is an excellent choice for load-bearing structures such as walls and floors due to its strength properties.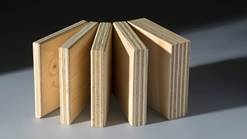 The new thickness options and the wide selection of panel sizes increase the possible end uses.
"Fire-retardant plywood in the right thickness is now available for all frame construction end uses. The most significant benefit of WISA-SpruceFR plywood is that it can be used to replace complicated and multi-layered structures at sites that require fire-retardant materials," says Olli Wirén, End Use Manager at UPM Plywood.
The fire-retardant treatment that the WISA-SpruceFR plywood undergoes at the production stage makes both planning and building easier. Planning is simplified since a site's fireproofing requirements can be met with one structural product. In construction, ready-for-use WISA-SpruceFR reduces material costs, requires less storage space and makes installation simpler and faster.
Easy to use and sustainable
Fire-retardant WISA plywood is easy and safe to use and handle, and does not necessitate any special requirements for the other construction materials used.
"The technical properties of WISA-SpruceFR plywood are exactly the same as the properties of regular WISA-Spruce plywood. Its fire-retardant properties and the fire classification are retained even when the plywood is cut or a small amount of holes are drilled into it. Both sides of the product are fire-retardant, so it cannot be installed incorrectly," says Riku Härkonen, Product Manager at UPM Plywood.
WISA-SpruceFR plywood is a sustainable product made from Nordic spruce and the fire-retardant treatment given to the plywood does not harm the environment. The product has been granted the M1 Emission Classification of Building Materials and an appropriate CE marking for use as a structural component.
In addition, third-party verified and internationally comparable Environmental Product Declarations (EDPs) are now available for UPM's WISA plywood. These EPDs state the product's environmental impact throughout its lifecycle, from the sourcing of raw materials to its disposal. UPM Plywood's EPDs have been created for four product groups: coated and uncoated spruce plywood, and coated and uncoated birch plywood.
In Finland, UPM Plywood's EPDs have been approved and published by the Building Information Foundation RTS sr. The EPDs have also been published on the international ECO Platform EPD list. Therefore, they have been approved in all European EPD programmes that are part of the system.
Fire-retardant WISA-SpruceFR plywood is available in all well-equipped stores that sell construction materials and timber.
For further information please contact:
Olli Wirén, End Use Manager, UPM Plywood, tel. +358 407 635 382, olli.wiren@upm.com
Riku Härkönen, Product Manager, UPM Plywood, tel. +358 407 057 991, riku.harkonen@upm.com
UPM Plywood
UPM Plywood offers high quality WISA® plywood and veneer products mainly for the construction and transport industries as well as UPM Grada® thermoformable wood material for the furniture and manufacturing industries. The sales of UPM Plywood in 2018 were EUR 480 million and it has about 2,400 employees, including 1,500 in Finland. UPM has six plywood mills and a veneer mill in Finland as well as plywood mills in Russia and Estonia. – www.wisaplywood.com, www.upmgrada.com
Follow UPM Plywood on  Twitter | YouTube | Instagram | Facebook
UPM
We deliver renewable and responsible solutions and innovate for a future beyond fossils across six business areas: UPM Biorefining, UPM Energy, UPM Raflatac, UPM Specialty Papers, UPM Communication Papers and UPM Plywood. We employ around 19,000 people worldwide and our annual sales are approximately EUR 10.5 billion. Our shares are listed on Nasdaq Helsinki Ltd. UPM Biofore – Beyond fossils. www.upm.com
Follow UPM on Twitter | LinkedIn | Facebook | YouTube | Instagram | #UPM #biofore #beyondfossils