The world's first wooden satellite mission, WISA WoodsatTM, will have its first taste of space conditions on 12th of June, when a weather balloon will carry the satellite prototype to a stratospheric altitude of approx. 30 kilometres. The stratospheric flight will test the communication, commanding and the boom camera of the satellite.

The stratospheric flight of the WISA Woodsat prototype will be done from the Finnish Science Center Heureka (in the picture) at 13:00 weather permitting. Follow @wisawoodsat on Instagram and Twitter for online schedule updates.
The public is welcome to follow the activity at close range. Before the flight taking off at 11:00, WISA Woodsat mission manager Jari Mäkinen will explain the test flight and status of the WISA Woodsat mission at Heureka (in Finnish). Other members of the satellite team are at hand, too, to answer questions from the audience. During the day the visitors of Heureka are invited to build their own cardboard satellites to be taken home.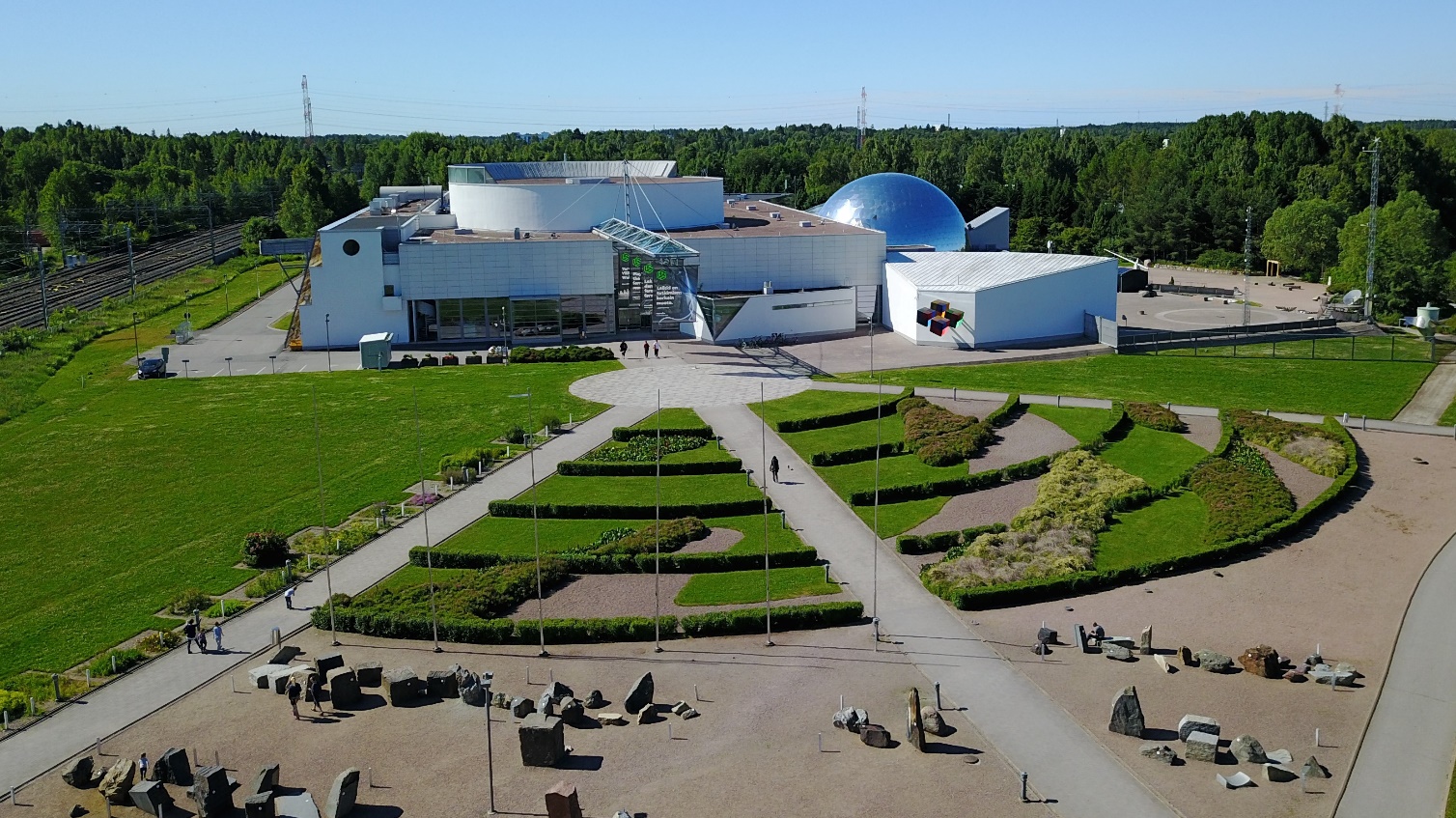 "Conditions in the test flight altitude are already quite like in orbit. The air is very thin, the sky is almost black, and the Sun is beating down on the satellite with intense radiation. If all goes as planned, we'll have continuous contact with the satellite, so we can follow the flight and the pictures of upper atmosphere taken by the satellite. The prototype will come down after reacting the maximum altitude under a parachute, and we can fetch it to Heureka already in the afternoon if we are lucky" says Mäkinen.
The stratospheric flight will be done by Arctic Astronautics, who in collaboration with UPM Plywood and Huld has developed the Wisa Woodsat. The flight will be coordinated by Helsinki-Vantaa airport (EFHK) air traffic control. This stratospheric flight is one of the steps in a test programme paving the way for launching a flight model of the Wisa Woodsat to space before the end of 2021. The world's first wooden satellite will be launched to earth's orbit with a Rocket Lab rocket from New Zealand.
Wisa Woodsat mission was made public in mid-April, and the prototype of the satellite was presented to the media in early May. The wooden satellite will gather data on the behaviour and usability of the wood materials – especially WISA-Birch plywood – in spacecraft primary structure, and also test satellite communication technologies, validate a new nanosatellite platform, and popularize space technology.
The next important milestone in this space mission will be met in early July, when an identical duplicate of the actual space faring wooden satellite will be taken to the European Space Research and Technology Centre (ESTEC) in the Netherlands. The simulators and shakers of ESTEC can mimic the conditions of a rocket ride and space to a very high degree.
The countdown to WISA Woodsat's launch can be followed on the mission website wisawoodsat.space and in social media channels with the handles @wisawoodsat and #wisawoodsat.
For further information please contact:
Jari Mäkinen, tel +358 40 550 9198 / jari (at) kitsat.fi
Ari Voutilainen, tel +358 40 6719995 / ari.voutilainen (at) upm.com
Pictures for media: https://materialhub.upm.com/l/bH9_mdR7TTTB
WISA WOODSAT™ online: wisawoodsat.space
WISA WOODSAT™ Instagram, Twitter and Tiktok: @wisawoodsat
UPM, Media Relations
Mon-Fri 9:00-16:00 EET
tel. +358 40 588 3284
media@upm.com
UPM Plywood
UPM Plywood offers high quality WISA® plywood and veneer products for construction, vehicle flooring, LNG shipbuilding, parquet manufacturing and other industrial applications. In 2020 UPM Plywood sales was EUR 400 million and it had 2,100 employees. UPM has five plywood mills and one veneer mill in Finland as well as plywood mills in Russia and Estonia. – www.wisaplywood.com
UPM
We deliver renewable and responsible solutions and innovate for a future beyond fossils across six business areas: UPM Biorefining, UPM Energy, UPM Raflatac, UPM Specialty Papers, UPM Communication Papers and UPM Plywood. As the industry leader in responsibility we are committed to the UN Business Ambition for 1.5°C and the science-based targets to mitigate climate change. We employ 18,000 people worldwide and our annual sales are approximately EUR 8.6 billion. Our shares are listed on Nasdaq Helsinki Ltd. UPM Biofore – Beyond fossils. www.upm.com
Follow UPM on Twitter | LinkedIn | Facebook | YouTube | Instagram | #UPM #biofore #beyondfossils
Arctic Astronautics
Arctic Astronautics is a start-up from Finland, which has created the Kitsat educational satellite and the related STEM teaching material package. Kitsat is a fully functional one-unit CubeSat, specifically made for educational use with earthly components. It can be also used for stratospheric flights or easily upgraded with space-qualified parts into a qualified satellite, as demonstrated with WISA Woodsat(TM). Arctic Astronautics graduated from the European Space Agency's Business Incubation Center in Finland in 2020. – www.arcticastronautics.fi
Heureka Science Centre
Heureka, the Finnish Science Centre, is a lively hands-on exhibition and activity centre for all ages and among Finland's most popular leisure time destinations. Heureka opened to the public on April 28, 1989 and attracts nowadays on the average 300 000 visitors a year. Heureka has four exhibition halls for interactive exhibits and a planetarium. Everything works in three languages: English, Finnish and Swedish, partly also in Russian and Estonian. Heureka is located  in the Helsinki metropolitan area, in city of  Vantaa, Tikkurila, and it is open around the year. -  www.heureka.fi
Huld
Huld is a European technology design house with experience from the space industry since 1989. It is now also reaching out to the New Space industry combining software and testing knowhow with tailor-made additive manufacturing mechanisms and out-of-the-box thinking. Huld provides the additively manufactured deployable camera boom and related structures for the mission. – huld.io
WISA, WISA WOODSAT and WOODSAT are trademarks of UPM Plywood.