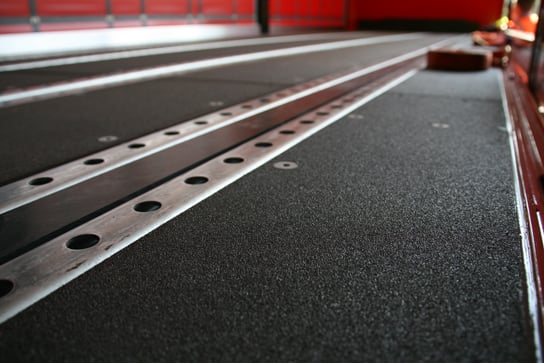 In May 2014, UPM and its long-standing partner Ansorge Logistik sent the firs trailer fitted with WISA-TopGrip out on the road. The purpose of the six-month testing phase for the new birch plywood panels with anti-slip coating was to identify whether TopGrip represents a better alternative to the anti-slip mats that were used to achieve the required friction level for the floor.
Ansorge has around 1000 loading units and is a specialist in a range of areas, including transporting goods on pallets. It is always on the look-out for solutions that meet its quality requirements while contributing to process economy at Ansorge.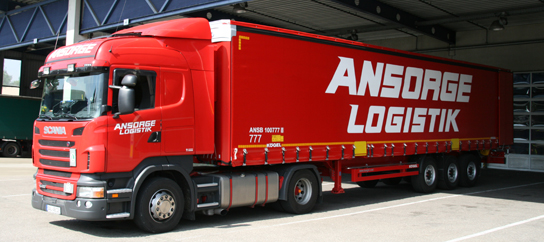 "With its integrated slip resistance, WISA-TopGrip is a superb product innovation that simplifies a host of processes in loading and unloading operations, saving valuable time. We are absolutely thrilled with the results of the test", says Wolfgang Thoma, Managing Director of Ansorge Logistik.
Trailers at Ansorge transport an average of 30 loads per day, delivering them to a wide range of unloading points in Germany and the rest of Europe. Ansorge Logistik has been a reliable partner of UPM for 20 years and delivers paper rolls throughout Germany.

Until now, disposable anti-slip mats have been the prescribed means of securing all goods for transport, including paper. These mats need to be fully laid out in the trailer before the trailers are loaded, and then thrown away after the goods have been delivered. This takes the drivers a great deal of time, while also resulting in additional costs and safety risks for the company.
Streamlining processes with WISA-TopGrip to give a competitive edge
WISA-TopGrip has been specially developed for applications requiring a high level of slip resistance, such as transportation of paper rolls and wooden pallets. "The special feature of WISA-TopGrip is the anti-slip coating that means anti-slip mats are no longer required", explains Georg Staller, Coordinator for Mill Loading at UPM supply Chain Augsburg.
"On average, around five minutes can be saved per loading process. As the disposable anti-slip mats are no longer needed, we are also protecting the environment, which is very important to us as a sustainable company", Staller says.
The coating not only makes the floor non-slip, but also increases its durability. Like other WISA floors, TopGrip has been developed to ensure the floor lasts longer than the complete lifecycle of a trailer, which is 4-5 years. "After completing the test, which involved around 230 loading processes, the floor showed absolutely no sings of wear - this is superb result that has even been tested by external research company DEKRA", says a pleased Wolfgang Thoma.
In the unlikely event that the loading operation causes damage to the anti-slip coating, local damages can be repaired in a quick and simple process. After just a few minutes', the trailer is ready to use again.
Maximum safety for freight and employees
"For Ansorge Logistik, meeting safety standards takes an equally high priority as identifying potential areas of optimisation. The standards are very strict and our vehicles are inspected by the police at least once a week", explains Thoma. "That's why it is essential for us to ensure not only that our freight is transported to our customers in a perfect condition, but also that our employees are given maximum protection." For optimal securing of loads with WISA-TopGrip, the freight merely needs to be fastened with straps. This simplifies the loading process and saves additional costs.
Following succesful completion of the testing phase, Ansorge Logistik has already started refitting its vehicle fleet - it intends to equip all 300 of its trailers with WISA-TopGrip by 2017.
Georg Staller and his team at UPM in Augsburg emphasise the significant appeal that the product is having. "After successfully completing the testing phase with Ansorge Logistik, we have been actively promoting WISA-TopGrip at our logistics partners. The benefits of this innovative product have helped us win over a whole hosst of companies, and 40 of them are already using trailers fitted with TopGrip."