Hämeen ja Pirkanmaan Geokätköilijät Ry, a local geocaching club, organized an international geocacher event in Lahti. The event was called "Under glowing masts" after famous radio towers of Lahti, where also UPM Plywood HQ is located. The event gathered together over 2000 geocaching enthusiasts in Lahti during 27.-29.9.2019. Due to the large number of participants, it is considered a mega event.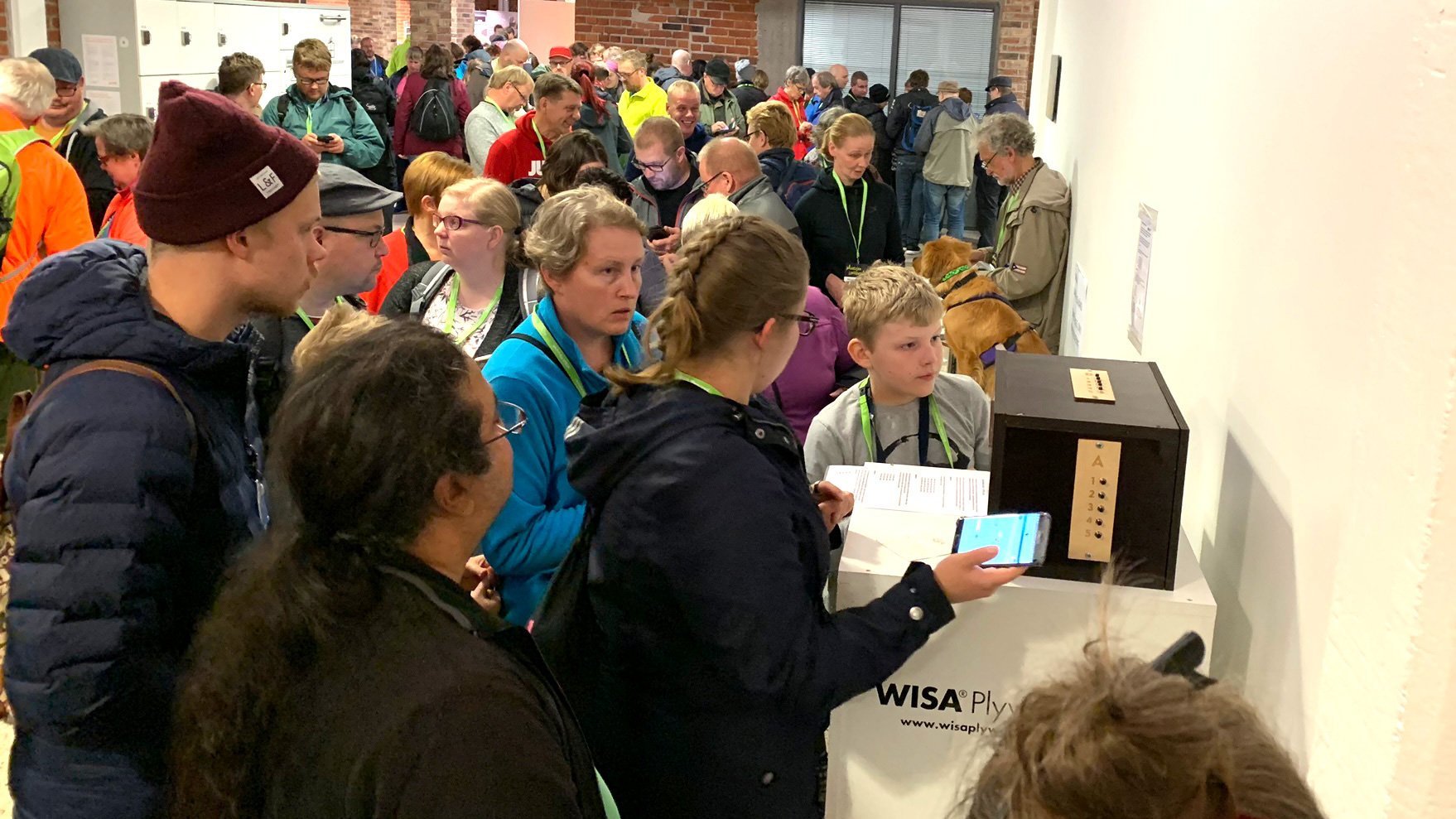 UPM Plywood team is building a special WISA Plywood lab cache to the event. Geocaching is a game where players are locating caches, objects hidden by other players, using a GPS enabled application. After finding the cache, the players log their find in the app and by signing a guest log included in the cache itself.
Geocaching is all about exploring your surroundings and nature. The caches are usually placed in somehow interesting places and the cache descriptions reveal the story behind the particular place. It is kind of augmented reality that only opens for people who are willing to look. For outsiders, "muggles" as they are called, the regular items hidden in plain sight go unnoticed.
In Finland, most of the geocaches are in the nature. Caches lure enthusiasts to forests, parks and hiking trails, and often to places you would never otherwise visit. When was the last time you looked at a view from under a bridge instead of from the top? When did you go off the beaten path and climb a tree or a rock?
A hobby for families
Getting kids outside with the entire family can sometimes be difficult. Especially these days when the lure of digital devices provide ample entertainment for the young ones. Having a quest for finding a specific cache motivates the entire family to visit a new place, and the joy of discovery or solving a puzzle fuel the excitement.
Keeping the environment clean
When geocachers meet in big or small events, a popular event activity is to head out to the surroundings together and at the same time collect trash from nature. That is called CITO – Cache In Trash Out. Geocachers and community groups work together to help improve outdoor spaces and preserve the natural beauty of geocache-friendly spaces by picking up trash and by removing invasive species. Since its initial launch, more than 333,000 people have volunteered at 16,000 CITO events and over 8,000,000 liters of garbage have been collected.
Geocaching fits well to UPM's own commitment to sustainability and our will to promote active dialogue with our local stakeholders. UPM's global and local support activities are coordinated under the umbrella of our Biofore Share and Care programme.
Geocaching by the numbers (source: Geocaching.com)
There are more than 3 million active geocaches worldwide.
Geocaches are hidden in 191 different countries on all seven continents (even Antarctica)!
More than 642 million "Found it" and "Event Attended" logs have been recorded since the game started in 2000.
Currently, there are over 361,000 geocache owners throughout the world.
Geocachers gather at over 36,000 events annually to share stories and play the game.
There are more than 200 geocaching organizations around the world.
If you got interested in Geocaching, go to geocaching.com to learn more and register your own player name. Then, head out and enjoy the game!
Read more: