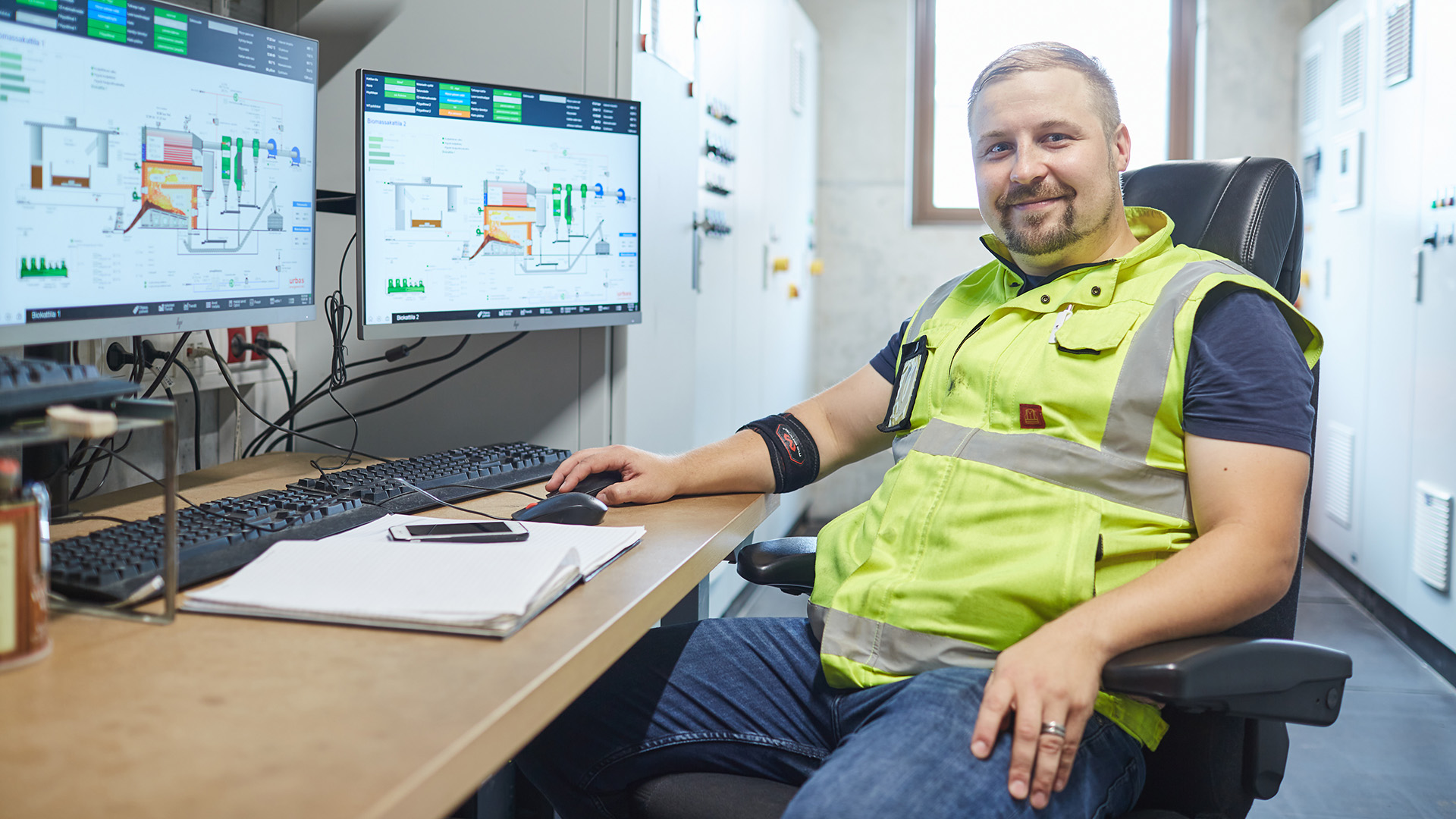 "Energy is an important and interesting subject. Any shortcomings in power or heat are sure to be noticed," says energy engineer Lauri Patama.
The pride of the UPM Joensuu plywood mill, a manufacturer of WISA plywood products, is its biofuel heating plant that started production in late 2019. It makes heat from plywood side products, such as bark, wood chips and sawdust.
Half of the thermal energy generated by the plant is used to dry veneer, hot-press panels and heat the bark removal pool for logs. The other half is used by the food manufacturing company next door, a partnership that goes back decades.
"Because we use side products for energy, we can avoid felling extra trees for that purpose. The ash from the heating plant is used for soil improvement and as fertiliser. The flue gases from combustion pass through heat recovery, electrostatic filtration and a flue gas scrubber," says Lauri, describing how environmental impacts and emissions are minimised.
Cooperation and reliable energy support the security of supply
In addition to managing a three-person team in two shifts and overseeing the heating plant with them, Lauri is also tasked with improving the energy efficiency of the whole mill.
"Regulations and the authorities have strict requirements for what we do, and reporting is an essential part of our duties. This makes the work both demanding and rewarding. Our successes come from cooperation within the team and with the mill's other experts," says Lauri, emphasising team spirit.
Lauri describes UPM's industrial processes as efficient by design. If heat production is disrupted, this may inconvenience customers due to delays in the drying process, for example, a worst-case scenario.
"Power and heat are required at every stage of the plywood process. The process stalls without them. This makes the security of our plant's supply a top priority," Lauri says.

Our new Behind the Scenes article series offers a glimpse into modern plywood production and introduces professionals across a variety of roles at UPM Plywood.