UPM Plywood's mills in Joensuu, Kalso, Lappeenranta, Ristiina and Savonlinna in Finland produce WISA products for construction, transport equipment and industrial applications in Finland and worldwide. The production and delivery of plywood to customers is a multi-stage process, starting with wood procurement in the forest and proceeding through factory production and subsequent transport and storage to the destination of the product.
"Due to the nature of the business, WISA plywood production impacts local communities in many ways, both directly and indirectly. The processing of renewable wood raw material into plywood products is largely based on productive local activities that create basic well-being in society," says Ari Voutilainen, Director of Stakeholder Relations at UPM Plywood.
Every year, UPM Plywood measures the local impact of its Finnish mills using various indicators. The environmental impact of the mills is monitored, including the proportion of sustainably sourced wood raw material (100% certified), the proportion of bioenergy in the mills' heat production (almost 100%) and the recovery rate of by-products and waste from plywood production (100%).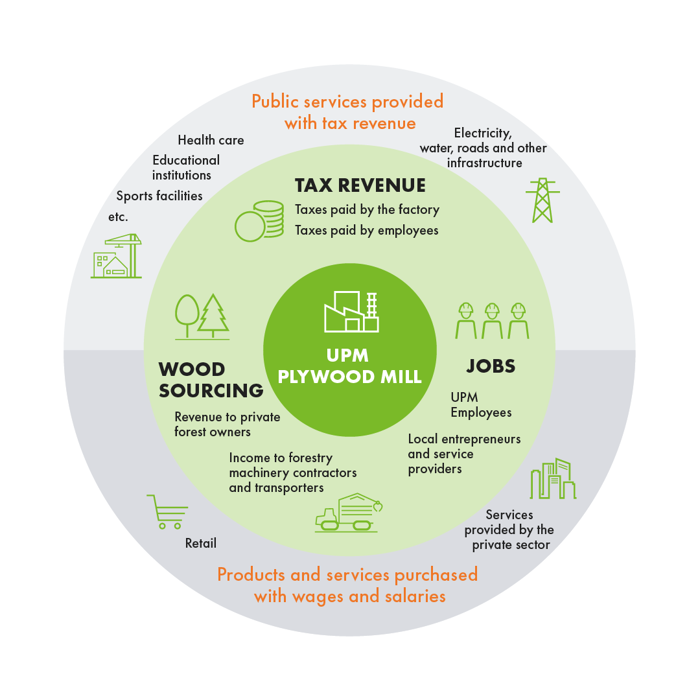 Forests bring prosperity to many
The impact of the mills on the local economy is annually measured using a method defined by the Institute of Economic Research (Etla). This method can be used to calculate the direct and indirect effects of operations on employment, taxes, consumption, etc. In addition, the effects of wood raw material supply are monitored.
"UPM's Finnish plywood mills generally have a significant impact in their localities. Each mill directly employs tens or hundreds of people. The operations generate direct tax revenues for the municipalities, which in turn helps to finance basic services such as education or investments in roads and other infrastructure," says Voutilainen.
"The indirect effects of production are often even greater. For example, wood sourcing by mills generates income for private forest owners. Most of the wood needed for our Finnish factories comes from responsibly managed forests within 100 kilometres of the factory."
There are also significant indirect effects from the fact that the mills use the services of local entrepreneurs. In addition, UPM's employees spend their wages in local shops and businesses and pay taxes to the communities where they live.
"At UPM Plywood, sustainability is reflected in our everyday operations, whether it is our impact on the environment or on society. By choosing WISA plywood, you can be sure that the manufacturing of the product has also created well-being far beyond the gates of our mills," Voutilainen sums up.
Text: Janne Suokas
Article main photo: Local people are interested in the mills. UPM Plywood mills open their doors for the public every now and then, and especially the mill tours are popular. Photo from a mill tour in UPM Kalso Veneer Mill in August 2022.