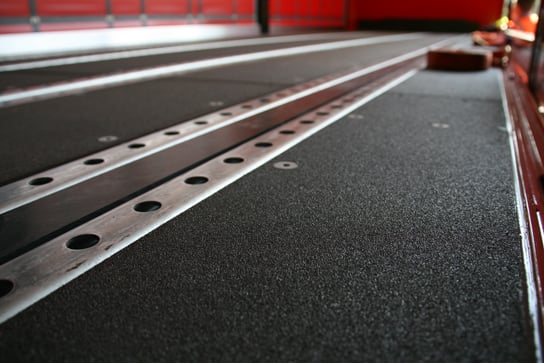 Test users in Europe give excellent ratings to WISA-TopGrip Evo2 trailer flooring. The coated high-friction birch plywood panel has proven maximum performance in extreme use.

Over the years, UPM Plywood has developed expertise and know-how of the product requirements for demanding trailer flooring. Continuous product development in cooperation with customers is an important part of UPM Plywood operations. As a recent example, WISA-TopGrip Evo2 has been tested by transportation companies across Europe.
WISA-TopGrip Evo2 has been designed to withstand side- or rear loading and transportation of paper reels, euro pallets and gitterboxes by forklifts.
In addition to laboratory tests, WISA-TopGrip Evo2 has been intensively tested in the extreme climate in North and Central Europe to ensure it fulfils demanding real-life requirements. The accelerated real-life testing has been ongoing since March 2017. The test floor has been used for example in a trailer transporting rocks and stones to the mineral wool industry. So far there has been no damage.
Ansorge trusts WISA vehicle flooring
One of the test user is UPM's long-standing partner Ansorge Logistik in Germany. Ansorge has around 1000 loading units and is a specialist in a range of areas, including transporting goods on pallets.
Trailers at Ansorge transport an average of 30 loads per day, delivering them to a wide range of unloading points in Germany and the rest of Europe. The trailer floors face many challenges and requirements on a daily basis.
"We transport many kinds of heavy goods like paper rolls, pallets and recycling paper. We also use forklifts and pallet jacks," says Sebastian Wischhöfer, Fleet Manager at Ansorge Logistik.
The company has been using the WISA floorings since 2014, at first to test use and then ordering the floors for its trailers. Last year Ansorge started to test the new WISA-TopGrip Evo2 panels. After almost a year of testing, Ansorge has been very satisfied with the performance.
"In the future all our paperliner trailers will be equipped with high-friction flooring," Wischhöfer says.
Rocks challenge the floor
Vehicle flooring in heavy transport faces extreme stress every day. A good way to test the floor is to put it into extreme conditions. Originally WISA-TopGrip Evo2 was designed for transportation of heavy paper rolls and similar products, but in the test environment the flooring had to deal with rocks.
Finnish transport company Kuljetusliike P. Timperi has six trucks transporting all kinds of industrial products: rocks, paper rolls, pulp and timber. One of the most challenging products is rocks.
"Our transporters are all dump trucks, so the rocks break the floor very easily. If we use normal flooring, it lasts less than a year before it needs to be changed," says managing director Paavo Timperi, Kuljetusliike P. Timperi Oy.
Over a year ago Kuljetusliike P. Timperi started to test the WISA-TopGrip Evo2 flooring in one of its transporters. It has proven to be very durable.
"The test floor has exceeded all our expectations. We could not even imagine that the test floor would last so well. How can this be even possible?" Timperi wonders.
Saving money and working hours
With the WISA-TopGrip Evo2's excellent resistance Kuljetusliike P. Timperi has been able to save money and working hours.
"The new test floor has shown no damage in over a year of use. Usually the floors break in less than one year's use. It takes a whole working day for three men to change the floor. Not to mention that the transporter is out of work that day," Timperi says.
WISA-TopGrip Evo2 has also been specially developed for applications requiring a high friction level. The special coating gives the floor high friction so the load stays steady in the trailer during transportation.
"The high friction on the floor is definitely a safety issue. The load doesn't slide," says managing director of JKV Transport Jesse Kuusi.
"Only positive experiences"
JKV Transport is a Finnish transport company. It has one transporter with two trailers. The products carried are mainly forest industrial products like paper rolls, pulp and timber. The trailer floor faces high stress because products are loaded on a forklift truck.
"When I got the opportunity to test the WISA-TopGrip Evo2 floor, I definitely wanted to take the chance," Kuusi says.
He explains that the test floor has proven endurance. WISA-TopGrip Evo2 has not broken even though a forklift truck can very easily cause damage to the floor.
"The new floor has been excellent. I have only positive experiences," Kuusi concludes.