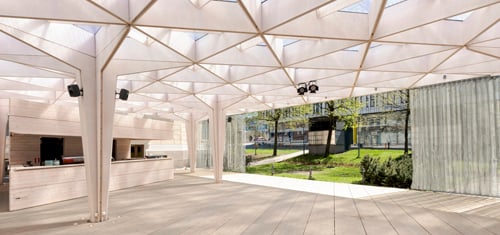 From mid-May to mid-September, the Pavilion was the heart of World Design Capital Helsinki. Representing contemporary Finnish sustainable wood architecture, the Pavilion acted as an excellent showroom for UPM's materials, among them WISA-Twin, which was used for the pillars and the roofing construction.

"The big question for us was how to build the roofing, because the Pavilion had a total of 470 square meters of roofed space in total. We decided to prefabricate the WISA-Twin- elements at the factory and then the roofing, weighing some 12 tonnes, was lifted in place by two giant cranes", tells Antti Rusko, Production Manager at Stara Construction Services. This was one of the most critical phases in the construction, but everything went according to plan.
"One of the most important advantages with WISA-Twin is that the material is lightweight, but still very elegant. Because it has birch faces and a spruce core, it doesn't weigh as much as birch plywood", says Rusko.
The roof of the Pavilion consisted of triangle-shaped grate beams positioned to form recurrent triangle shapes. The eight pillars of the roofed area had a six point plywood box structure, consisting of core lattices made of structural timber (UPM Strong) and a surface of 18 mm WISA-Twin plywood with birch veneer face. The beams were glued box beams, similar to the pillars. The covering of the roof itself was made from transparent polycarbonate cellular board.
A sustainable choice
Pyry-Pekka Kantonen, on whose winning design the WDC-Pavilion is based, also appreciates the appearance of the material.
"It was my first experience with WISA-Twin, and it performed very well. With its birch faces, it has a nice and smooth surface, but is still more inexpensive than birch plywood. And, as it's made of certified wood, it was also a sustainable choice", says Kantonen.
Project Manager Ransu Helenius points out that WISA-Twin is also a very strong material that has retained its straightness well in the construction.
"Wood expands and shrinks with changes in weather conditions, but this isn't the case with plywood, which is in fact more stable that wood. WISA-Twin has performed very well in the Pavilion," he concludes.
As the construction schedule for the Pavilion was quite demanding, Antti Rusko is very pleased with the smooth cooperation between the parties in the construction process.
"We built the Pavilion in only 7 weeks. Our teamwork with the Aalto University Wood Studio and UPM was excellent all the way", Rusko praises.
WISA-Twin is a lightweight and sustainable multipurpose panel with multiple choices of end uses. It is also CE marked for structural purposes. The PEFC or FSC label guarantees that wood used in the product is from well managed forests.