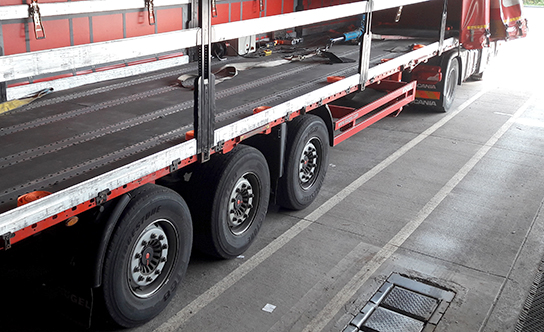 The high-friction coated WISA®-TopGrip plywood panels for vehicle floors have proved to last years of heavy loading. The coating replaces the additional anti-slip mats, which are thrown away after use. With TopGrip, less time is needed on top of the trailer, so personnel's safety improves.

WISA-TopGrip is developed for vehicle floors where high-friction is extremely important. The first trailers fitted with WISA-TopGrip floors were tested in 2014, and after the successful test phase the product was launched to market. Recent tests by DEKRA show that the vehicle flooring built of WISA-TopGrip has the same friction level as the newly installed floor even after two years of use.
WISA-TopGrip birch plywood panels with high-friction coating were designed to provide a more sustaina
ble alternative for the single-use solution.
"When heavy paper reels are placed on a trailer, single-use anti-slip mats were normally used to create the required friction level," says Georg Staller, Supply Team Leader, UPM Paper ENA.
"TopGrip coating reduces waste, as there's no need to throw away the mats. The product is sustainable and it saves money," Staller explains. An average cost for an anti-slip mat is 50 cents each. Per truck load, it sums easily up to 15 or 20 euros. "There are different policies between paper manufacturers. Some sell the mats to the logistics company. We have given them for free."
The high-friction trailer flooring increases safety and saves time. "WISA-TopGrip saves approximately five minutes per
loading process. You don't need to place the mats on the floor or dispose them. This means you need to spend less time on the trailer and safety risks decrease," Staller describes.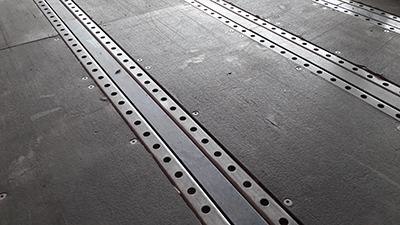 Winning solution for all parties
In Germany and Austria, if the friction requirements are not met, or if the anti-slip mats are misplaced, the transport or logistics company faces a penalty fee. Moving reels and paper rolls pose a threat to other traffic. And there's a risk of damaged products.
"It's significant that the friction is well above the required level even after two years of use. Installation of WISA-TopGrip floor is an investment, and the customer needs to rely on the quality," Staller emphasizes. Average age for a trailer is three to four years.
TopGrip has been received well among logistic companies. Faster loading and unloading together with environmental aspects and safety perspective make the product attractive to customers.
Wolfgang Thoma, Managing Director of Ansorge Logistik, is very pleased with WISA-TopGrip floors. From the total amount of 400 trailers, Ansorge Logistik renews the flooring on 100 trailers each year.
"We have 329 trailers equipped with WISA-TopGrip and we plan to use TopGrip flooring in all of our trailers," Thoma says. He is convinced of the TopGrip flooring quality and the friction test results. "The quality is as good after 2.5 years as it was when the flooring was new."
Thoma sees that improved safety is one of the most important things with WISA-TopGrip. "The coating also saves costs in handling and materials, and it is a sustainable choice," he adds. Feedback from drivers has also been positive.
Georg Staller has noticed rising interest from the market.
"In 2017, there are 550 trailers using WISA-TopGrip in Germany and Austria, and 1000 trailers where the investment to install TopGrip flooring has already been made."
Demand is likely to grow especially now when there's concrete proof of the floor coating friction durability. "I have a strong belief that WISA-TopGrip can be a standard equipment soon," Georg Staller concludes.