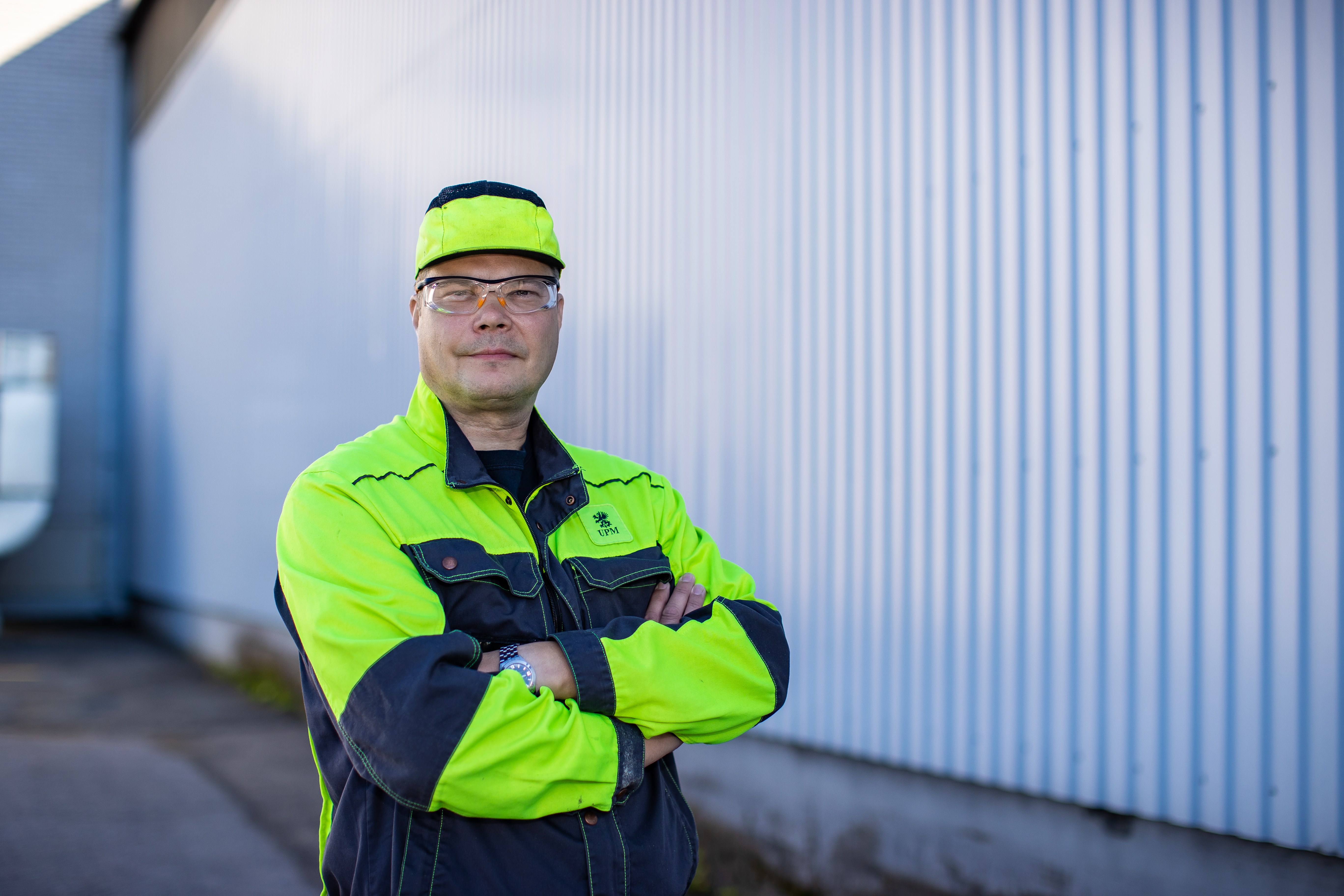 Once the wood has been received and soaked, it's time for the first step of plywood production: veneer peeling. At the UPM Pellos Plywood Mill, the person responsible for veneer peeling is Pasi Sutela, who has worked in the role for 25 years.
At the peeling department, Pasi works with people who are responsible for operating the grinder and the wet veneer cutter. A stand-in is also a part of their team. The plywood mill, located in Ristiina near Mikkeli (Finland), is the biggest in Europe and produces WISA spruce plywood that is used mainly in the construction industry across Central Europe, the UK and the Nordic countries.
Pasi supervises the arrival, debarking, cutting and, of course, the peeling of the wood. In practice, however, the veneer is peeled by a modern automatic machine. The veneer peeling lathe must be supervised at all times when it is on. Vigilance is key during the 12-hour shifts, because wood travels through the lathe at an astounding speed of 300 metres per minute. Although the lathe operator can supervise the workflow from the monitors and react to potential disruptions quickly, sometimes operations have to be stopped, such as due to a sudden veneer pile-up.
Efficient peeling ensures that we can turn as much wood into veneer as possible. Additionally, the strength and smoothness of the veneer can be affected through peeling. Veneer peeling is therefore important in ensuring the quality of veneer. "The veneer must be of high quality and strong so it can endure further processing. The sharpness of the blades affects the strength of the veneer. Additionally, when you move the wood, the steel racks have to be in the correct position", Pasi says.
After veneer peeling, the veneer ribbon goes to the wet veneer cutter, where it's cut into sheets of a specific size. Then, the sheets are sorted into piles and taken into the wet storage and then to the dryers.

Our new Behind the Scenes article series introduces people working for UPM Plywood and provides a glimpse into modern plywood production.