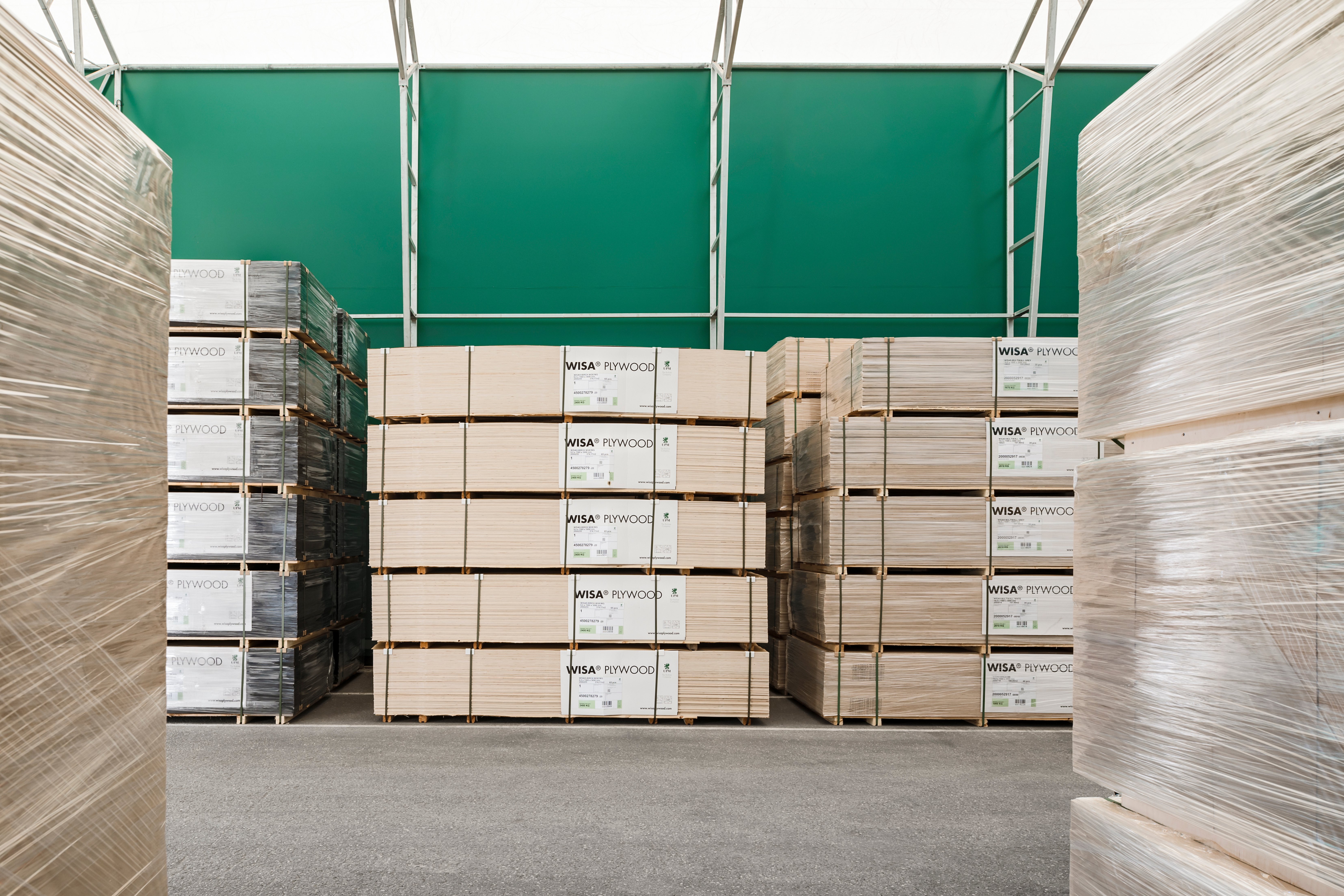 WISA plywood sheets must always be delivered to our customers in perfect condition. Good packaging does not simply protect the product during warehousing and transportation, it also makes the customer's life easier after the delivery is unloaded. This is why we always use materials that are easy to separate from each other and then can either be reused or recycled.
"We aim to design our packaging with the circular economy and environment in mind. The recycling process must be made as easy as possible, as customers usually recycle WISA plywood packaging materials at their site. Choosing proper material and structures ensures the recyclability of the packaging and that products are protected and handled safely," says Sirkku Salmikuukka, Product Manager at UPM Plywood.
Only recyclable packaging materials
The plywood mills of UPM utilise two main packaging methods. Birch plywood sheets are packaged into bales using transparent stretch film, wood, cardboard and paper labels. Spruce plywood sheets, used mainly in construction and non-visual applications, are simply bound together using plastic straps. These standard packaging styles and the use of these tested materials save both time and money for the plywood mills and the customers.
"We can promote recycling by minimising the number of materials used and making them easy to separate. The purity of the packaging materials collected affects the quality of the recycled raw-materials produced from it," Salmikuukka explains.
All the packaging materials used for plywood can be recycled or reused. Cardboard, paper and PET plastic used in packaging straps can be recycled by using general recycling streams of each material. The wood can be reused as it is, utilised as a raw material. For example, it could be used in landscaping or chemical pulp and paper production, or as biofuel.
Stretch film made of LDPE plastic is an excellent raw material for recycled plastic. The adhesive used to glue the paper labels to the plywood pallet gets released from the LDPE stretch film in the recycling process.
"Depending on the local recycling system, the recyclability of the stretch film means that customers can even profit by selling it to be reused as a raw material," Salmikuukka points out.
Development work will continue
Salmikuukka leads one of the teams that is developing the packaging used by UPM Plywood. The team is currently concentrating on the safety of the packaging, environmental aspects of the materials and the possibility of utilising responsibly-produced bio-based raw materials.
"Our customers are interested in packaging materials because there is currently a lot of discussion around their environmental effects. In addition, due to EU legislation and waste charges, the development of our packaging also aims to minimise costs," says Salmikuukka.
The plastic straps, cardboard and paper used in plywood packaging are already fully or mostly made of recycled materials. Timber is a by-product of the wood industry. Unfortunately, recycled raw materials, which are pure enough to be used in the LDPE stretch film production for plywood packaging use, are still not available. UPM Plywood is striving to find ways to further increase the proportion of recycled raw materials used in its packaging materials and to improve the recyclability of its packaging in general.
"For example, we are currently investigating alternatives to paper label adhesives in order to make it as easy as possible to separate labels from plastic," says Salmikuukka. "Although this has yet to become a reality, ideally we could utilise our internal by-products as bio-based raw materials in our packaging."
Text by: Janne Suokas