UPM is one of the first forest industry companies to have committed to the UN's Business Ambition for 1.5°C to take tangible action to mitigate climate change. The signatories promise to take scientifically proven measures to limit global temperature rise to 1.5°C above pre-industrial levels. UPM has also joined The Climate Pledge by Amazon and Global Optimism, which commits us to achieve net-zero annual carbon emissions by 2040.
As part of UPM Group, UPM Plywood takes concrete action towards these climate goals through products, forests and operations.
"We provide customers with renewable high-quality WISA products that store carbon and can replace fossil-based materials in construction, transport and other applications. At the end of their life cycle, they also replace fossil fuels when disposed of by burning. WISA products are made from wood material sourced from sustainably managed forests. Furthermore, we are constantly improving efficiency and reducing emissions from our mills and supply chain," describes Sanna Kontinen, Environmental Manager for UPM Plywood.
"Each of the three areas of climate action – WISA products, wood material and environmental performance – consists of many smaller and bigger actions that together create a substantial positive effect," Kontinen notes.
UPM Plywood has introduced the Responsibility Made Easy concept to help explain and discuss how responsibility is present in our products and everyday operations. In this, climate action falls into three categories: responsibility delivered to our customers through products and services, responsible wood material and responsibility for environmental performance.
WISA

plywood

combines strong carbon-storing properties

with performance
Climate-smart construction and transport require the use of materials that store carbon throughout their whole life cycle. Wood is a renewable and recyclable alternative to fossil-based materials such as steel and plastic. From a climate perspective, its best advantage is its carbon-storing properties. Wood absorbs CO2 as it grows, and that remains stored in wood products until they are disposed of.
"WISA plywood products act as long-term carbon storages throughout their lifetime without compromising on performance and quality. For example, one cubic metre of WISA plywood can store up to 1.000 kg of carbon dioxide, which equals the emissions from flying from London to Los Angeles and back again," Kontinen says.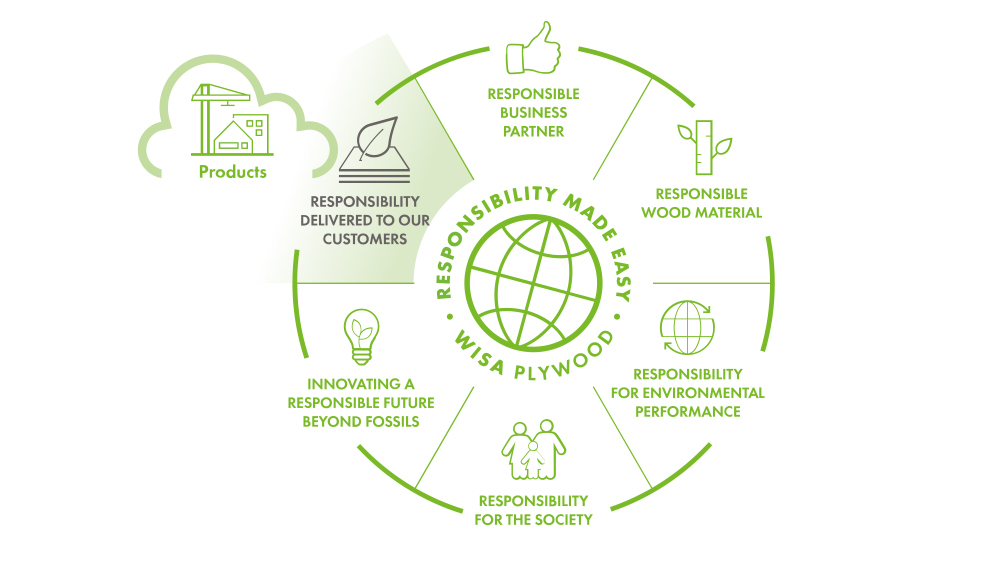 "All WISA products also come with Environmental Product Declarations that help users to reliably verify and compare the environmental impact of different products and manufacturers. This is one example of how we can also help the customers act responsibly through our products and services," Kontinen adds.
Sustainable

wood material

from

climate positive forestry
As wood is the primary component of plywood, it is critical that the raw material is sustainably sourced. All wood material used for manufacturing WISA plywood comes from responsibly managed forests in Finland and the Baltic countries. The origin of all wood is always known, and the supplies are covered by third-party verified chain of custody certificates under the FSC™ (FSC C009856) and PEFC (PEFC/02-31-112).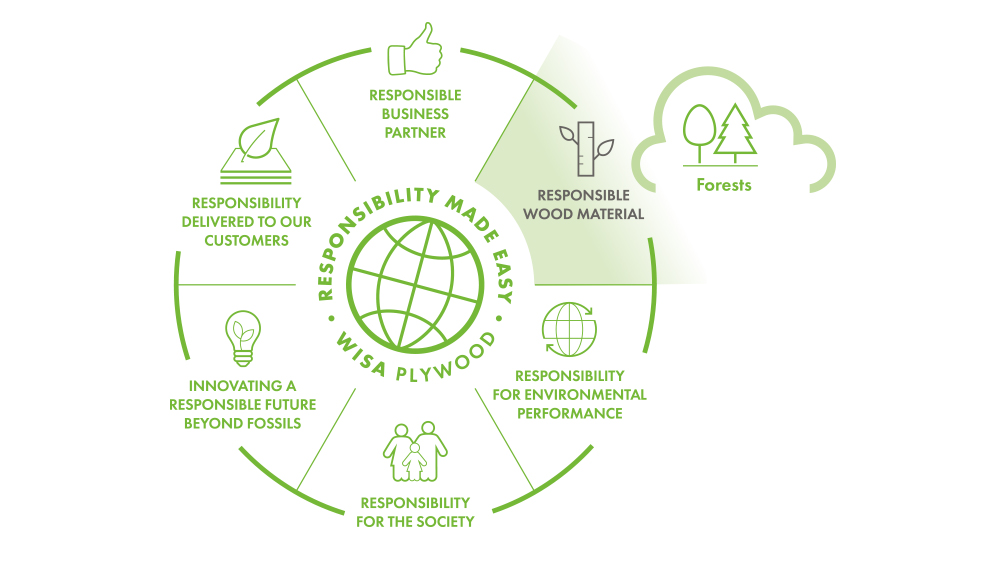 "UPM is committed to climate-positive forestry and enhancing biodiversity in the company-owned forests. This means that these forests continue to be carbon sinks and that we always grow more than we harvest. Every year UPM plants more than 50 million tree seedlings – four new seedlings for every tree we use," Kontinen says.
UPM has recently launched a new Forest Action Programme that guides our wood sourcing operations and covers the company's own forests until 2030. The programme goes beyond current standard requirements and its measures have a positive impact on the fundamental aspects of sustainable forestry: climate, biodiversity, soil, water, and societal contribution.
Improved
efficiency
is
good for climate
too
Besides WISA plywood's carbon-storing properties and sustainable raw material, the climate impact of its manufacturing and delivery process is important too. UPM is committed to limiting global warming by reducing our own CO2 emissions by 65% and those from the supply chain by 30% by 2030.
At UPM's plywood mills, the heat required in the production process is almost exclusively produced by bioenergy. The valuable raw wood material is used as carefully as possible during the plywood manufacturing process. The by-products of the process, such as bark and fuel chips that are rejected from material use, are then used as biofuel at the mills' bio-boiler plants that generate heat required at the mill.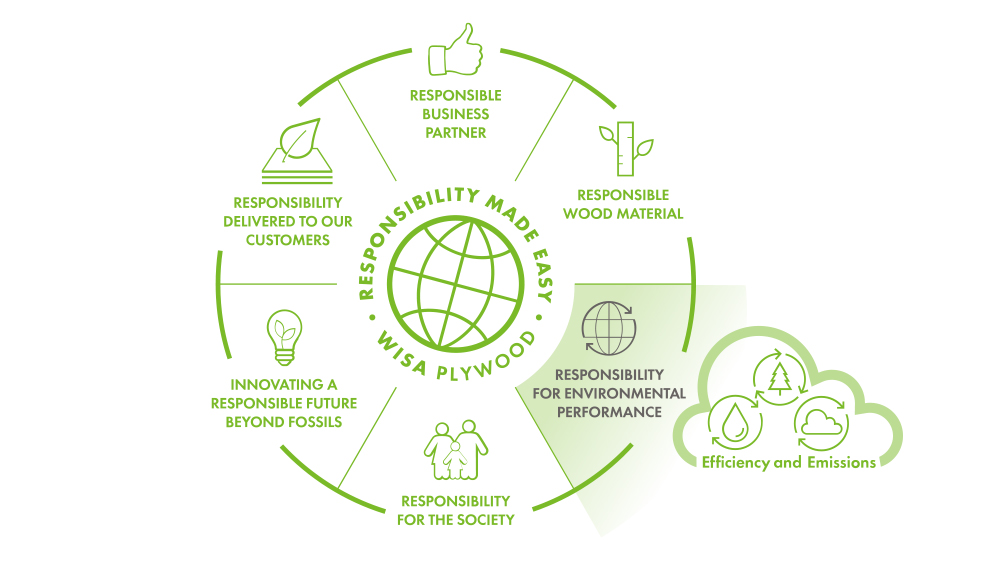 "Producing more with less wood and energy benefits the environment and improves the cost-effectiveness of the production. In this, every step counts. Such moves as switching to electric forklifts or improving water saving or heat recovery at the mills all help reduce emissions," Kontinen notes.
Another great example is WISA BioBond, a wood-based technology that replaces oil-based phenol in the plywood bonding process. Starting from May 2022, all WISA spruce plywood products are manufactured using this technology. By making WISA BioBond the standard for the whole product range, we can reduce emissions from our supply chain and further improve the carbon footprint of WISA plywood.
This article is part of our new Plywood Beyond Fossils series that presents the concrete actions through which UPM Plywood is helping to mitigate climate change. To read more, visit our Responsibility Made Easy webpage.
Text: Janne Suokas