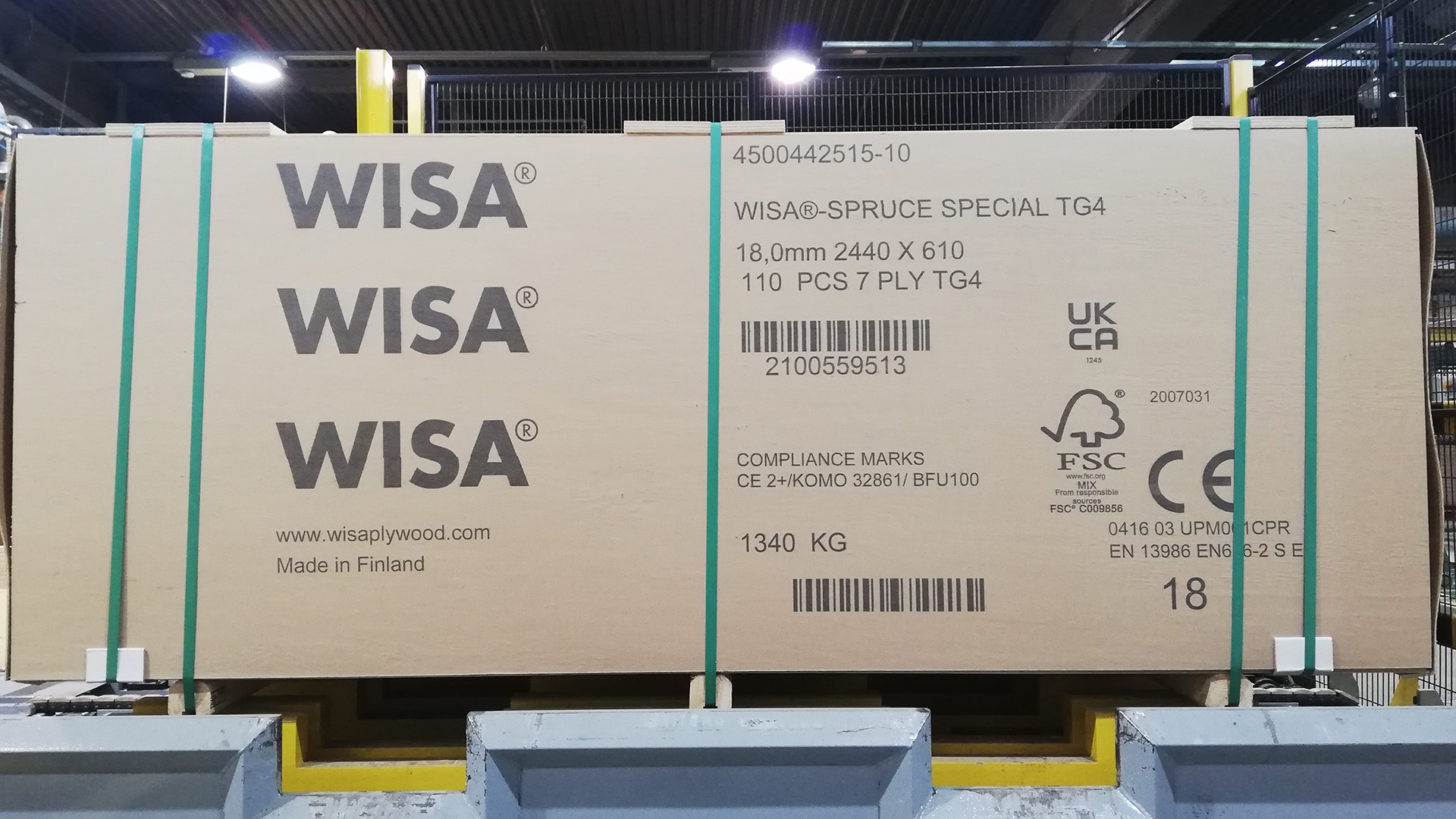 From January, UPM's WISA plywood products shipped to Great Britain will carry both the CE and the UKCA mark. UK Conformity Assessed (UKCA) marking is a new product safety marking for goods being placed on the market in Great Britain.


The UKCA marking came into effect on 1 January 2021 following the United Kingdom's withdrawal from the European Union. On commercial goods, the UKCA mark indicates that the product conforms to applicable requirements and can be freely sold in England, Wales and Scotland. It replaces the CE marking, which will no longer be recognized in Britain from 1 January 2023.
UPM Plywood has already received the UKCA certification for its WISA plywood product range. The UKCA mark now sits alongside the CE mark on WISA panels.
"Great Britain is an important market for UPM Plywood and therefore we are very pleased to announce the UKCA mark approval from the UK Approved Body," says Riku Härkönen, Product Manager at UPM Plywood.
"We worked hard to get the UKCA certification as early as possible to ensure a smooth transition period for our customers. The products themselves have of course not changed but our customers will have enough time to sell CE-marked WISA products from their stock before the UKCA marking becomes mandatory. In addition, the dual marking – both UKCA and CE – facilitates business across the borders," Härkönen adds.
The UK's Construction Products Regulations requires all construction products to be UKCA marked. For WISA plywood, the UKCA requirements are the same as those for the CE marking. For instance, all WISA products intended for use in construction have a category 2+ AVCP rating, which means they can remain permanently in structures.
"Choosing the right product for the right place is both ecological and efficient. When the product is strong enough and performs as required, the customer can avoid paying extra for a product that is too thick or too heavy for the use," Härkönen reminds.
Users can verify the WISA product's performance from the product-specific Declaration of Conformity (DoC) document on the wisaplywood.com website. All WISA plywood products carrying the UKCA mark have the corresponding DoC number on the pallet. The DoC number can also be found on the invoice.
Dual marking makes trading easier for James Latham Group
James Latham Group is one of the UK's largest independent distributors of timber and panels. They stock and sell a wide range of uncoated and coated WISA-Spruce and WISA-Birch products.
"For us, it is such good news to have a fully compliant product ahead of the UCKA deadline. This makes life easier for our customers and ourselves. It takes away anxiety because nobody wants to get caught up in a difficult situation for their business," says Ewa Bazydlo, Compliance Manager at James Latham Group.
Bazydlo also appreciates the fact that WISA plywood panels carry both the UKCA and CE marks.
"Dual marking is actually critical to the flow of materials in the UK as CE marking is still applicable in Northern Ireland. This is also important for James Latham Group because we have business in the Republic of Ireland too."
Bazydlo says that transparent sustainable sourcing is a central part of the James Latham policy. Besides the UKCA marking, all WISA plywood products comply with the new UK Timber Regulation (UKTR) that has replaced the EU Timber Regulation (EUTR) in England, Scotland and Wales while Northern Ireland remains subject to EUTR.
UPM's wood supplies are also covered by third-party verified chain of custody certificates under the FSC® and PEFC™. In addition, third-party verified Environmental Product Declarations are available for all WISA plywood products, providing information about the products' environmental impacts throughout their life cycle.
"We need to satisfy all customer needs concerning both regulatory requirements and voluntary sustainability schemes, and with WISA plywood we have all these covered. UPM Plywood's reliable supplies, strong technical support and transparent documentation help us better serve our customers," Bazydlo concludes.
Find all the UKCA mark Declaration of Conformity (DoC) documents for WISA plywood here

Text: Janne Suokas