Sustainability is about far more than identifying the right materials when home manufacturers Facit Homes plan a new low carbon project. They assess every element, not just during the building process, but for the whole life of every 'forever' home they create.
UPM's WISA-Spruce plywood always fits the bill for Facit Homes founder Bruce Bell who first used the material when he was researching construction materials. Now he is looking forward to using UPM's WISA plywood that has been manufactured using the innovative WISA BioBond technology. This adds another layer to sustainability credentials – without any compromises.
Facit Homes is a unique, pioneering UK business that designs and builds sustainable homes using computerised design techniques and a lot of plywood.
Bruce explains: "UPM WISA plywood makes up about 95% of the structure which as a proportion of the whole home is around 50%. This is versus a traditional house which would have 1% plywood, if that."
Joining the dots with digital processes
Facit Homes was born in London in 2009 from Bruce's two lifelong interests: sustainability (his mother was an environmental campaigner) and fascination with computers. His first job was with international architect Norman Foster, where Bruce worked on 3D computer modelling. This, a master's degree (Design Products at the prestigious Royal College of Art) and five years running his first business – an architecture practice – led Bruce to conclude there was another way…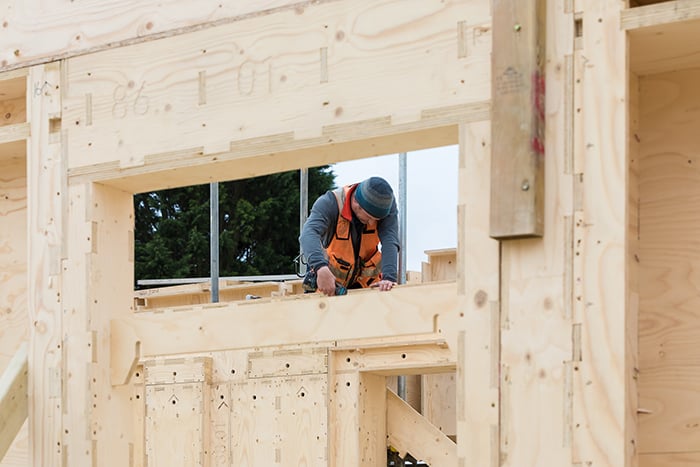 Finishing an internal door component for a new Facit home.
"I saw an opportunity to solve some of the horrors of house building for consumers. We got funding to prove we could use digital manufacturing techniques to build houses and in 2012 moved into turnkey projects where we do everything for the customer," he says.
The Facit team focus their energy on R&D, especially processes. This is a very different operational model compared to the traditional or prefabricated building model, which is capital and space intensive.
"It's always been scary and exciting. We are a hybrid between house building and industrial design. We handle design, manufacturing, costing and fulfilment and do everything on site. Facit joined the dots."
Reduced carbon footprint with UPM's WISA BioBond
Bruce created their unique chassis which forms the foundation not just of each house but the entire manufacturing and building process, which involves thousands of sheets of UPM's WISA plywood. Their method saves time, which also saves money and risks, and remains completely transparent to the client at all times.
Bruce admits he has tried other products but always comes back to UPM's because it is light, strong, easy to cut and move around, has guaranteed environmental credentials, steady supply and, above all, consistency. Now the WISA BioBond technology further minimises WISA-Spruce's carbon footprint by replacing around half the glue's fossil raw material with biobased lignin, without creating any other change.
This is hugely important to Bruce because their assessment of a design's sustainability goes beyond the norm – Facit consider embodied energy as well as operational energy and emissions.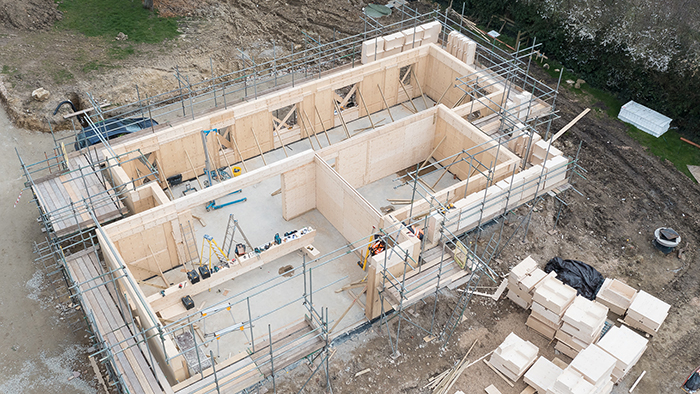 Internal and external walls complete – around 60% through Facit's unique chassis work. Alongside are stacks of roof components.
"Sustainability has always been engrained in what we do, thinking about the lifecycle of a product and its effect on the world," he says. "Our customers are savvy, they are informed, investing, and they want to reduce their risk to long term energy bills, which has just become much more commercial."
"We consider the whole. We choose materials with significant embodied energy that use less energy in their manufacture. WISA BioBond gives us even more environmental credentials – it is a highly technical change and UPM have to make sure nobody feels the difference. We will be using that on our next job."
Smells like a pine forest
Alongside the focus on low carbon and sustainability, Bruce has never lost his delight in one special aspect of his favourite building material…
"We have a reputation for coming in and doing everything – planning, design, utilities, all the tricky stuff. Nothing compares to the day the day we start building the chassis because everything is built around that. Each step is pre-planned... There is a concrete slab, our canvas, and we start to machine the plywood components. "
"The smell of a plywood build is something I love - like a pine forest. Especially when there are 2000 sheets of UPM WISA-Spruce on the site. It smells natural," Bruce smiles.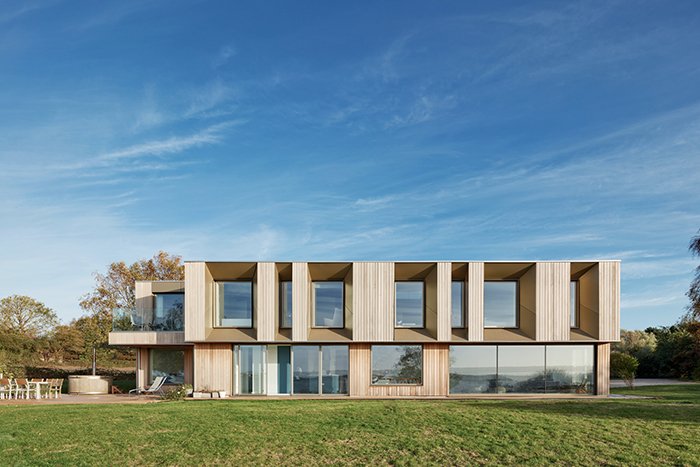 Stour House, built in 2018, is the one Bruce Bell is most proud of. He particularly likes the angular exterior, interesting details and the staircase.
But there is more: "WISA plywood is pleasant to work with, it's light, strong and forgiving at the same time, it's dimensionally stable and cuts easily, there is security and specificity in supply – even the tiniest difference could make a huge difference. You have to know it's going to be consistent.
"I always go back to each house after 12 months, sometimes again years later, and they are as good as they were on Day One."